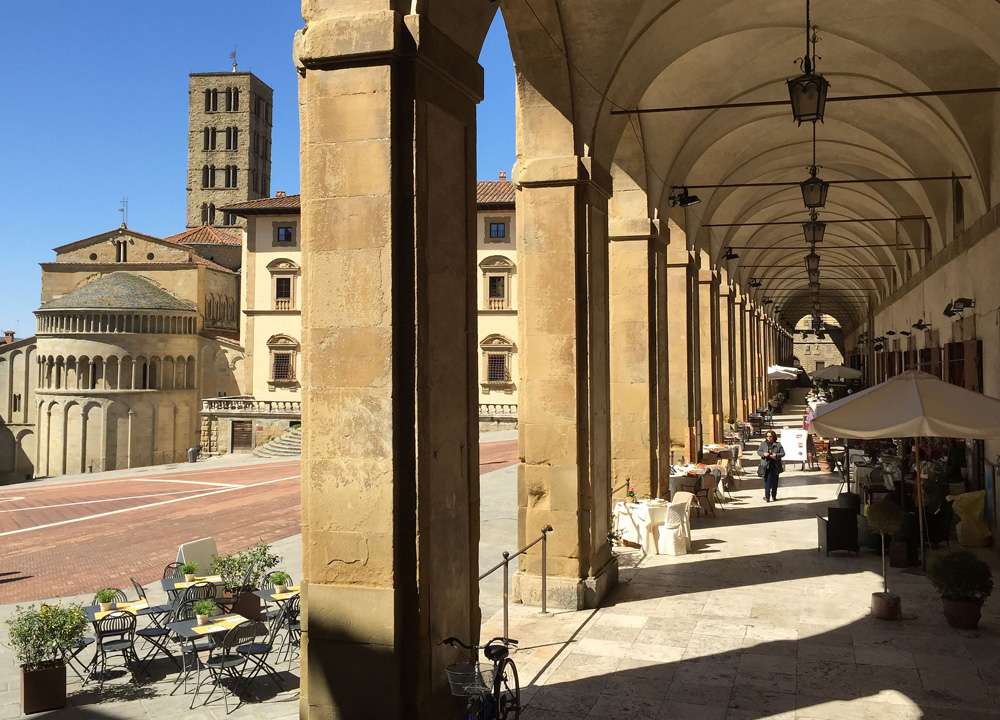 Explore your art while you explore the world!
Study abroad is a once-in-a-lifetime opportunity — a way to experience some corner of the world deeply and profoundly, while also enhancing your artistic skills and understanding. We strongly encourage you to take advantage of one of the Department's Study Abroad programs. More than half of theatre and dance majors do, and when they come back, they can't stop talking (sometimes in Italian!) about what a spectacular, life-altering experience they've had.


---
Accademia dell'Arte, Tuscany, Italy
With its focus on theatre, music, and dance, the Accademia dell'Arte offers a unique opportunity to study in an intense studio setting, with outstanding artists and professionals from Europe and the United States. Those who come to study at the Accademia will experience an intensive Italian language and cultural immersion program, academic studies, and high-level theatre, music and dance performance training.
Students live near each other in the villa, sharing meals with their teachers. The atmosphere is relaxed but very focused. The medieval city of Arezzo is about a mile away, and on weekends, students venture through Tuscany and take train trips throughout Italy and beyond.
The Theatre Program is rooted in the tradition of commedia dell'arte, complementing that aspect of the Muhlenberg curriculum. Students in the program receive the sort of rigorous all-day studio training experience they would encounter in a conservatory environment.
Masters of commedia dell'arte teach in two-week rotations, each with a different traditional technique to impart. These highly respected masters immerse their students in the commedia world, through strenuous physical training, voice training, discovery of the stock characters, mask making and improvisation. The first week of each rotation, the students work four hours daily, while continuing their language and philosophy classes, to give them time to adjust to the new technique. For the second week, the students work eight hours in the studio each day.
Check out the Accademia's great behind-the-scenes video (featuring several of our current students and alumni)
Instagram Takeover with Ryan Estes '21, taking you behind the scenes at the Accademia, in the fall of 2019.
Instagram Takeover with Hanah Gershkowitz '20 and Michael Civitano '20, taking you behind the scenes at the Accademia, in the fall of 2018.
---
Theatre Academy London
The TAL program gives students the chance to take classes with leading theatre artists, live in the heart of a great theatre city, and meet theatre-makers whose work is talked about the world over. Students live in 17th-century townhouses a stone's throw from the West End theatre district, see theatre productions ranging from avant-garde to West End blockbusters, and take courses in Shakespeare, stage combat, voice and movement. Co-curricular events include overnight trips within the U.K., London-based excursions.
Instagram Takeover with Alexandra Rivers '21, taking you behind the scenes of the Theatre Academy London, in the fall of 2019.
---
New York City Semester
The Muhlenberg Department of Theatre & Dance has teamed up with Larry Singer Studio to create a study "abroad" semester in New York City for junior and senior theatre majors. The semester includes acting classes with New York-based faculty and extensive opportunities to see world-class performances. The program also includes a full-credit internship, working with one of a wide range of arts organizations — including casting agencies, production companies, publicity agents and NYC-based news shows. The program is perfect for upperclassmen with acting concentrations looking for first-hand experience in the City before graduation.
Instagram Takeover with Kerry Sullivan '21, taking you behind the scenes of the NYC Studio Semester.
Instagram Takeover with Laura Diorio '20, taking you behind the scenes of the NYC Studio Semester.
---
Royal Conservatoire of Scotland Program
Students in this program have the opportunity to study the performing arts in one of the world's most successful multi-arts learning and teaching environments. Once accepted, participants choose from a multitude of programs, including Modern Ballet, Production and Technology Management, Contemporary Performance Practice, Production Art and Design, and Music.
The Royal Conservatoire of Scotland is a national and international centre of excellence for performing arts education. The campus is located in the centre of Glasgow, Scotland's most vibrant and creative hub. This partnership, the first of its kind for RCS, offers students the opportunity to receive world-class training that complements Muhlenberg's own top-rated programs in Theatre, Dance, and Music.
Royal Conservatoire of Scotland's exchange programs
Instagram Takeover with Maura O'Reilly '20, taking you behind the scenes of the Royal Conservatoire of Scotland.
---
Other International Programs
Muhlenberg offers a wide range of other study abroad opportunities through its Global Education Program, all of which are available to Theatre & Dance majors. Our students have traveled all over the world, including Ireland, Argentina, Denmark, Ghana, India, Israel and Nepal.
Your academic advisor will help you to plan a course of study for your semester abroad that allows you to fulfill all your academic requirements. The sooner you start discussing your plans, the better.
---
Want to Know More?
Thank you for your interest in Muhlenberg College. This form is for prospective students to request additional information about the Theatre & Dance Department.
Performance Patrons: to sign up for the mailing list, or to request information other than prospective student info, please the See a Show page, and click Mailing List Signup in the sidebar menu.
Loading...