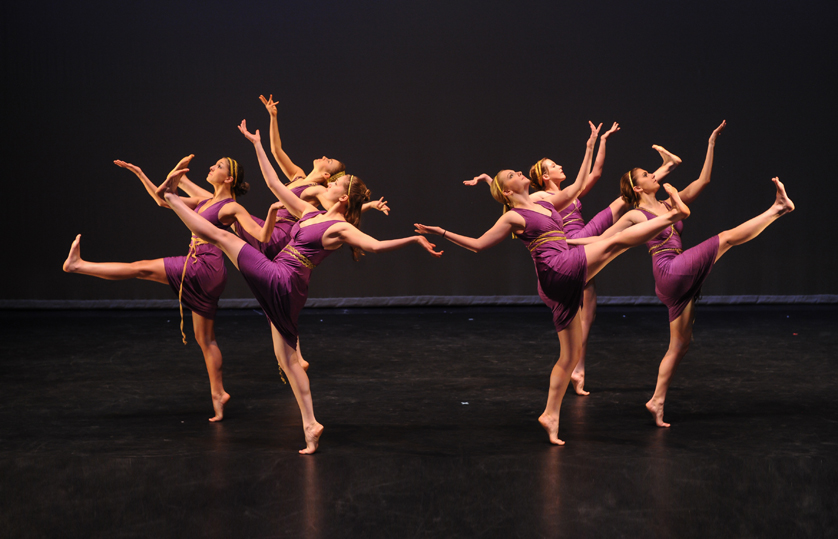 Classroom Studios
The Pavilion Rehearsal Hall serves as studio space for academic courses, but it also is used regularly for rehearsing productions bound for the Empie, Baker, and Studio theatres. Acting and directing students have access to this space as well, as they prepare projects for classes and the student-directed production series.
The Upper Level Dance Studio, while not intended for public performances, features all of the professionally designed elements of the Dance Studio Theatre: professional dance floor, mirrors, and bars. This space is used for both Dance Program classes and Muhlenberg Community Dance Center classes.
The Tap Dance Studio: This specially designed dance studio, on the second floor of the Baker Center for the Arts, serves as home to academic tap dance classes, rehearsals for dance concerts, and community tap classes offered through the MCDC.
Brown Dance Studio: This expansive studio supports a variety of rehearsals and dance classes. It is used frequently by Six Meters, the improvisational dance troupe, and for master classes with visiting performers and choreographers.
The Pilates Center

The Pilates method of body conditioning is designed to stretch, strengthen and tone the entire body and is excellent for people of all ages and levels of physical ability. Low impact movements on Pilates apparatus with spring resistance and mat exercises are utilized to strengthen the body's core muscles (abdominals, lower back, upper inner and outer thigh and buttocks) and improve overall physical conditioning and mind/body awareness.
The Pilates Center is located in the Muhlenberg College Life Sports Center between 23rd and 24th Street on Liberty Street. Mat and Reformer classes and private sessions are available through the MCDC.
The Dance Wellness Center
The Dance Wellness Center offers physical screening assessment and personal conditioning programs, as well as injury assessment and rehabilitation services for chronic dance related physical problems. The Center is directed by Gayanne Grossman, a physical therapist who serves on the board of directors and the education committee for the International Association for Dance Medicine and Science.
Ms. Grossman also teaches anatomy and kinesiology at Muhlenberg and Temple University, and has authored several papers and a book chapter on subjects such as physical therapy for dancers, management of dance injuries, advocating for dance science education, and dance-specific conditioning.
OTHER THEATRE & DANCE FACILITIES
---
Want to Know More?
Thank you for your interest in Muhlenberg College. This form is for prospective students to request additional information about the Theatre & Dance Department.
Performance Patrons: to sign up for the mailing list, or to request information other than prospective student info, please the See a Show page, and click Mailing List Signup in the sidebar menu.
Loading...