Celebrating the Class of 2023
The College's Commencement honored graduates in a ceremony held in downtown Allentown's PPL Center.
By: Katherine Dickey '22 Monday, May 22, 2023 11:00 AM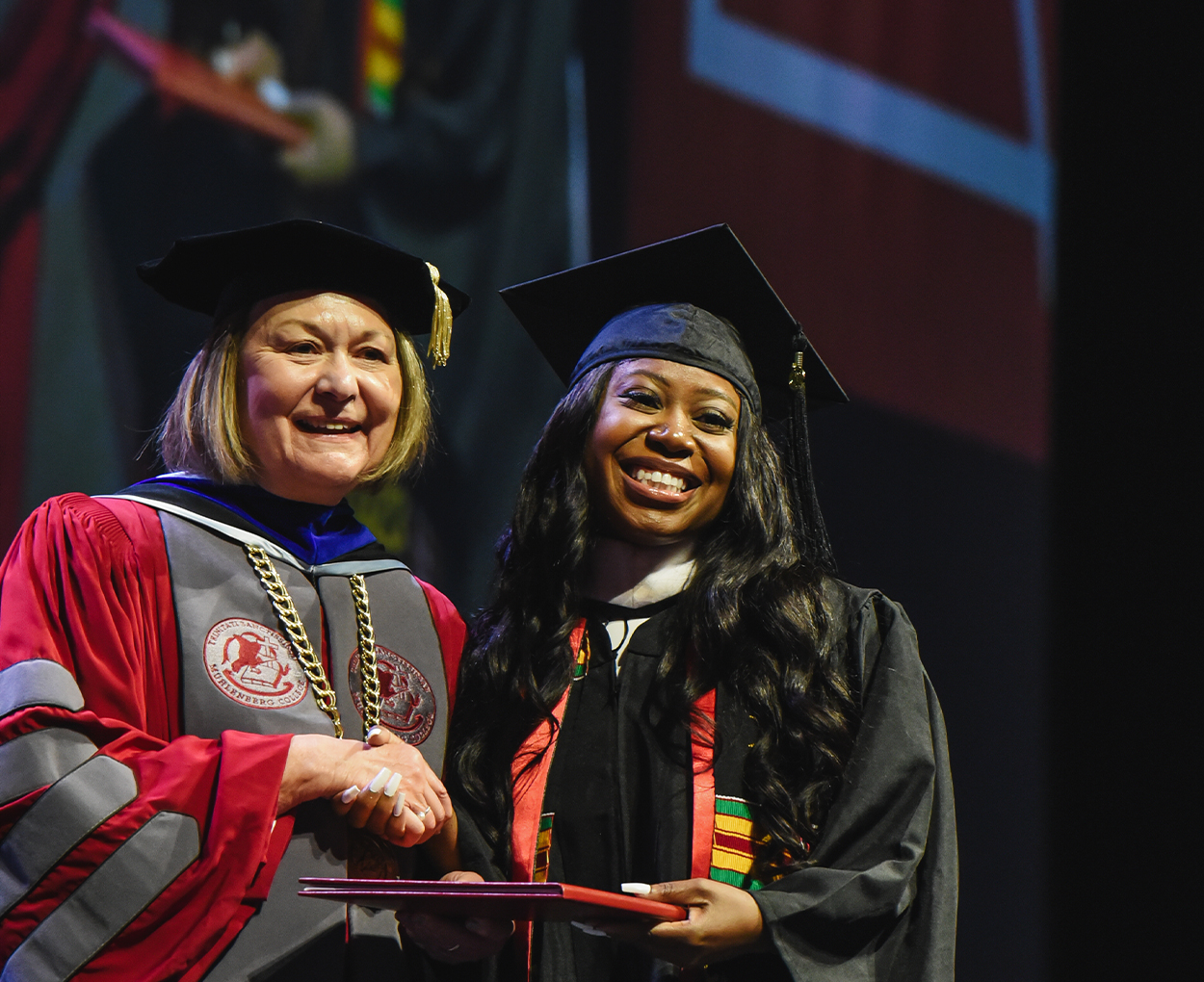 President Kathleen Harring presents a diploma to a member of the Class of 2023 during the College's Commencement ceremony.
On Sunday, May 21, more than 500 members of Muhlenberg's Class of 2023 gathered at PPL Center in Allentown to celebrate. Surrounded by friends and family, the graduates reveled in one another's achievements, cheering and clapping despite the request to hold reactions until all the names were read. No one could blame them, though, as the crowd was even more exuberant. After persevering through Zoom University (the early pandemic-era online and hybrid courses), as it was jokingly put by senior-class speaker Nour Yousry, the Class of 2023 had earned their jubilation.
College President Kathleen Harring presided over the ceremony, telling the graduates, "It has been a privilege to serve as your president and I am incredibly proud of you and all your outstanding accomplishments."
She and Lance R. Bruck '89 P'21, chair of the Board of Trustees, conferred honorary doctorates on two recipients: Cecilia A. Conrad and George Wheeler '72.
Wheeler was honored with a Doctor of Science degree following his scholarship and work in historic preservation. Conrad was honored with a Doctor of Humane Letters degree recognizing her groundbreaking work in economics, education and philanthropy.
Conrad gave the commencement address, giving thanks to her family and crediting both them and luck for her successes. She spoke of the values instilled in her by her parents and the hard work that transcends luck, what she called her "ingredients for living a good life."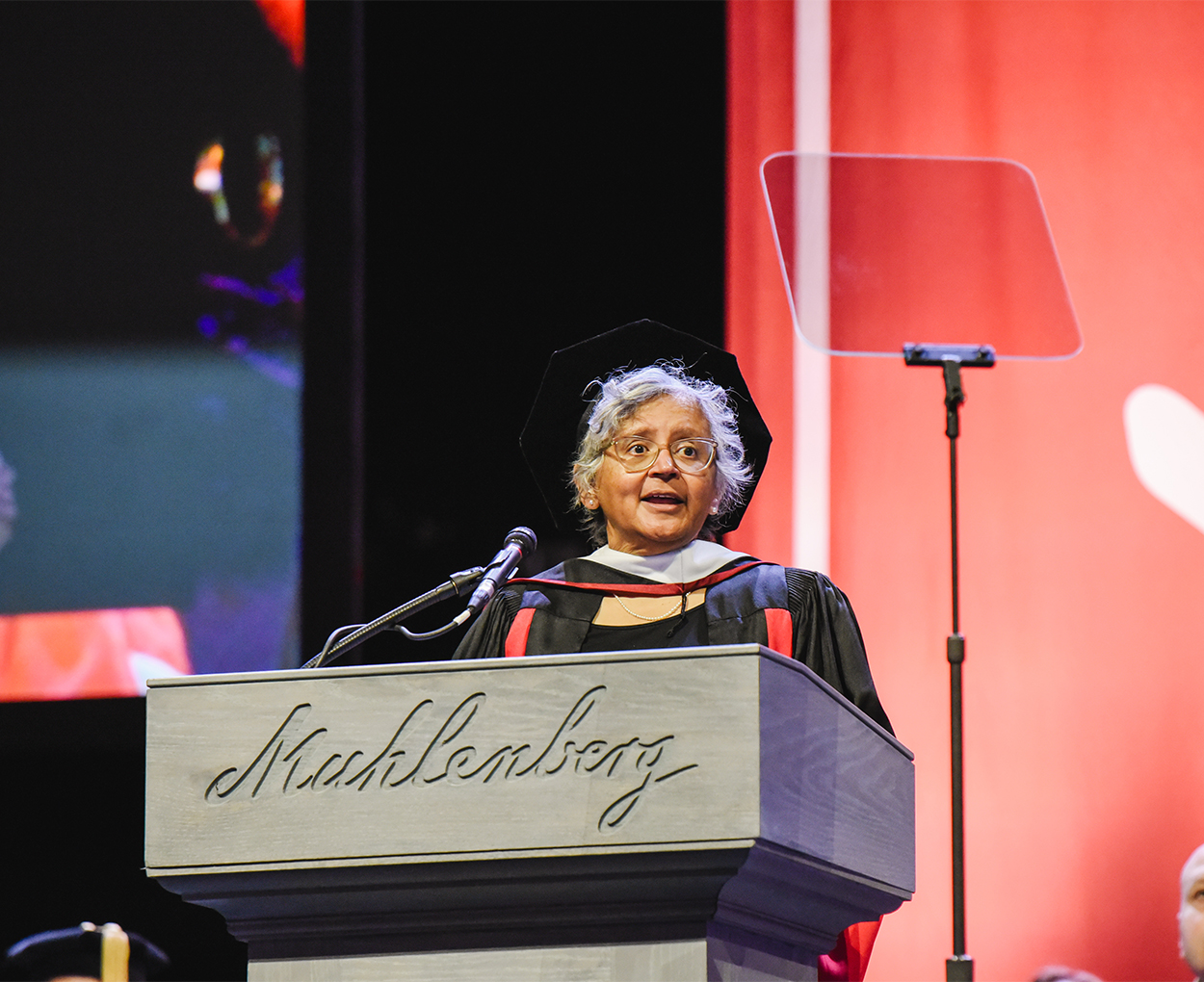 Number one: Use your privilege and your luck to make things happen. Number two: Don't waste your emotional bandwidth on hate. To demonstrate these two points she told powerful stories about her parents alternately grappling with white supremacists in power and turning the other cheek, fighting to elevate their community in ways they thought best.
Finally, she explained, you will realize your greatest potential by elevating and amplifying others. She told a story of a boy she tutored in reading in 10th grade, who was not quite literate when he started the year. He eventually competed in a speech and debate tournament alongside Conrad.
"My debate team won, but nothing, nothing compared to the exhilaration of watching Kevin give that speech when one year before he was struggling to read.
"Many of your professors will tell you the same thing. It feels good to have a paper or book published. It feels even better to see your student's name in print."
James Bloom, professor of English, was awarded with the Paul C. Empie '29 Memorial Award for Excellence in Teaching. The award is given in memory of the Rev. Paul C. Empie, graduate of the Class of 1929, a member of the College's Board of Trustees for many years and its chairman from 1972 to 1979.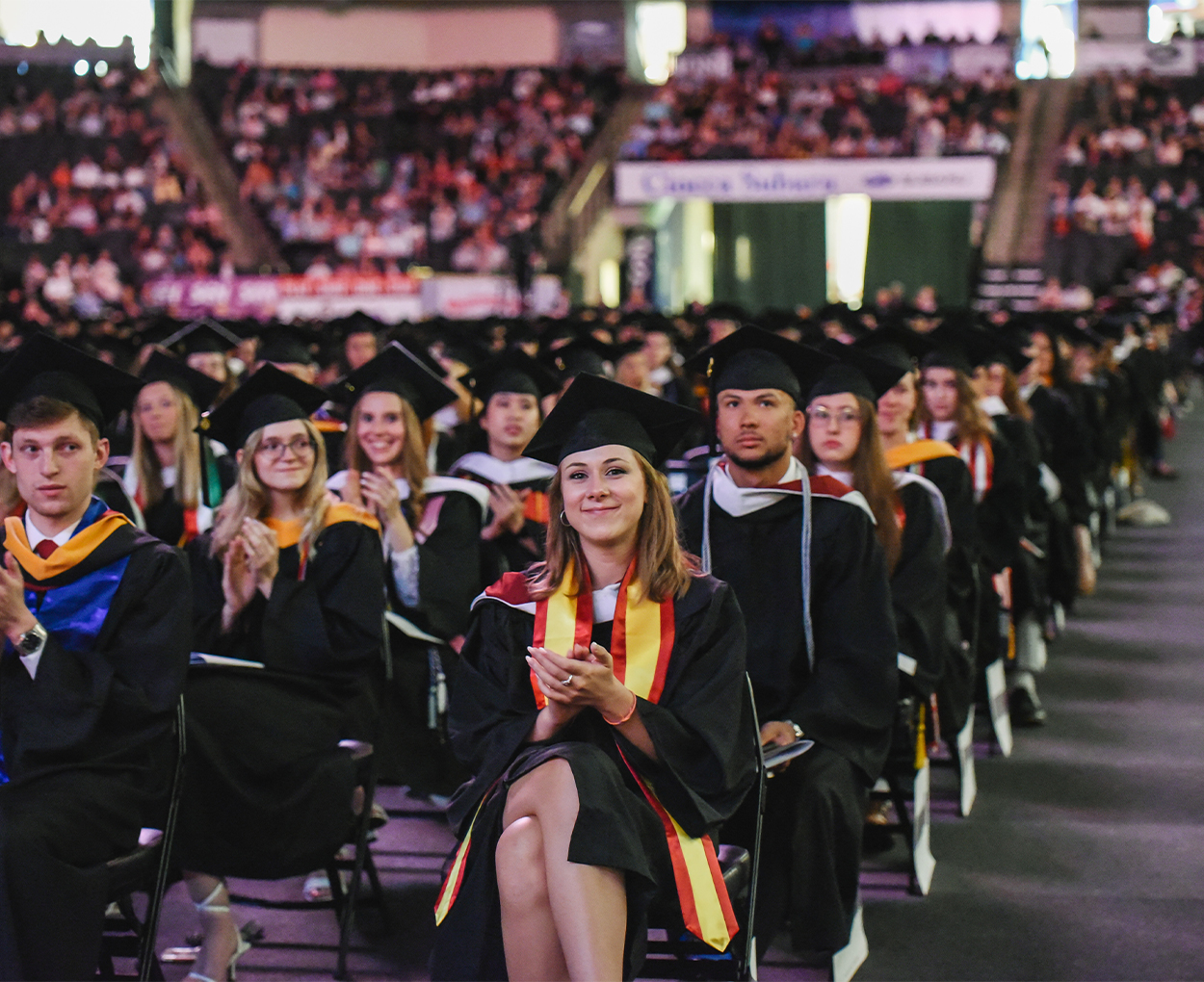 Louis Cocco, a double major in media & communication and business administration, and Maryn Pryor, a double major in accounting and sustainability studies with a minor in business administration, were announced as the recipients of the 2023 Future Alumni Leader Awards. This award recognizes seniors for their outstanding undergraduate leadership and their commitment to Muhlenberg College.
A hearty round of applause was given to the six co-valedictorians in the Class of 2023: Francois D'Elia, double major in and history; Elizabeth Gershater, biology major; Liam Safran, neuroscience major; Amanda Sodl, mathematics major; Isabella van der Weide, biochemistry major; and Cydney Wilson, a political science major and a self-designed women's, gender and sexuality studies major with a minor in Africana studies.
Student speaker Yousry, a graduate in public health with a minor in anthropology, addressed the Class of 2023 as a whole.
"As we graduate today from Muhlenberg, we enter the world more informed and more ready than ever before to create actionable solutions and impactful strategies for the world's biggest crises," said Yousry. "These are the multi-faceted problems that ask for productive and ambitious leaders who embrace a commitment to take on the challenges of our time."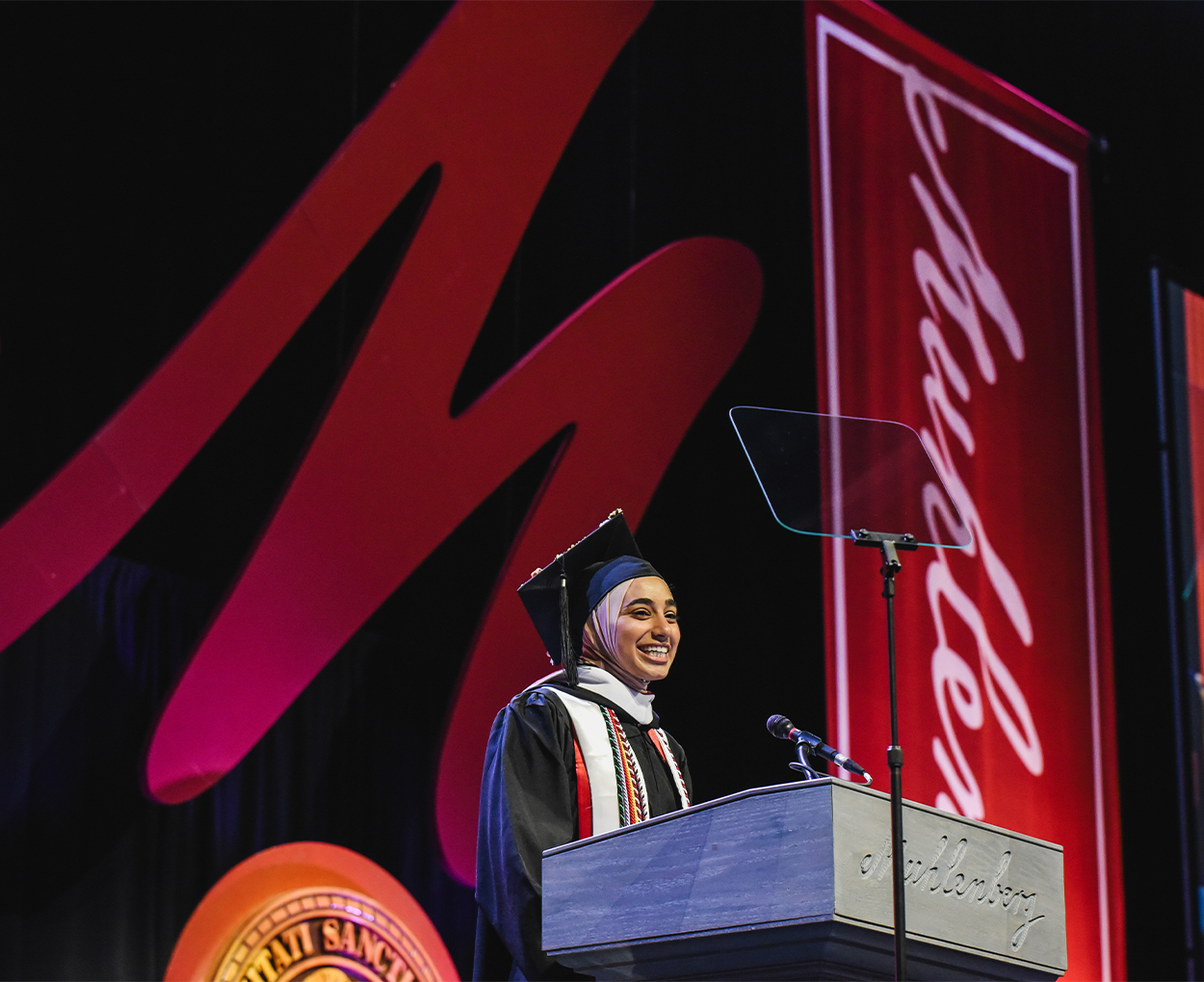 "In short, this is to say that these past few years were not smooth sailing," said Nousry. "Yet, more than the milestones of struggle that flickered our flames, are the shining moments of our perseverance and determination to make the best out of every opportunity and outcome…You stand strong as warriors for justice, advocates for equity, cherishers of diversity, leaders of integrity, people of empathy whose flames do not cease to shine ever so brightly."
Christian Johansson, senior speaker for the School of Continuing EducationSchool of Continuing Studies, told of the difficulty of being his mother's sole caregiver as she struggled with disability, and how hard it was to return to school.
However, Johansson, a computer science major and chemistry minor, said, "I encourage those of you adults here today, with aspirations of higher education, to not doubt yourself.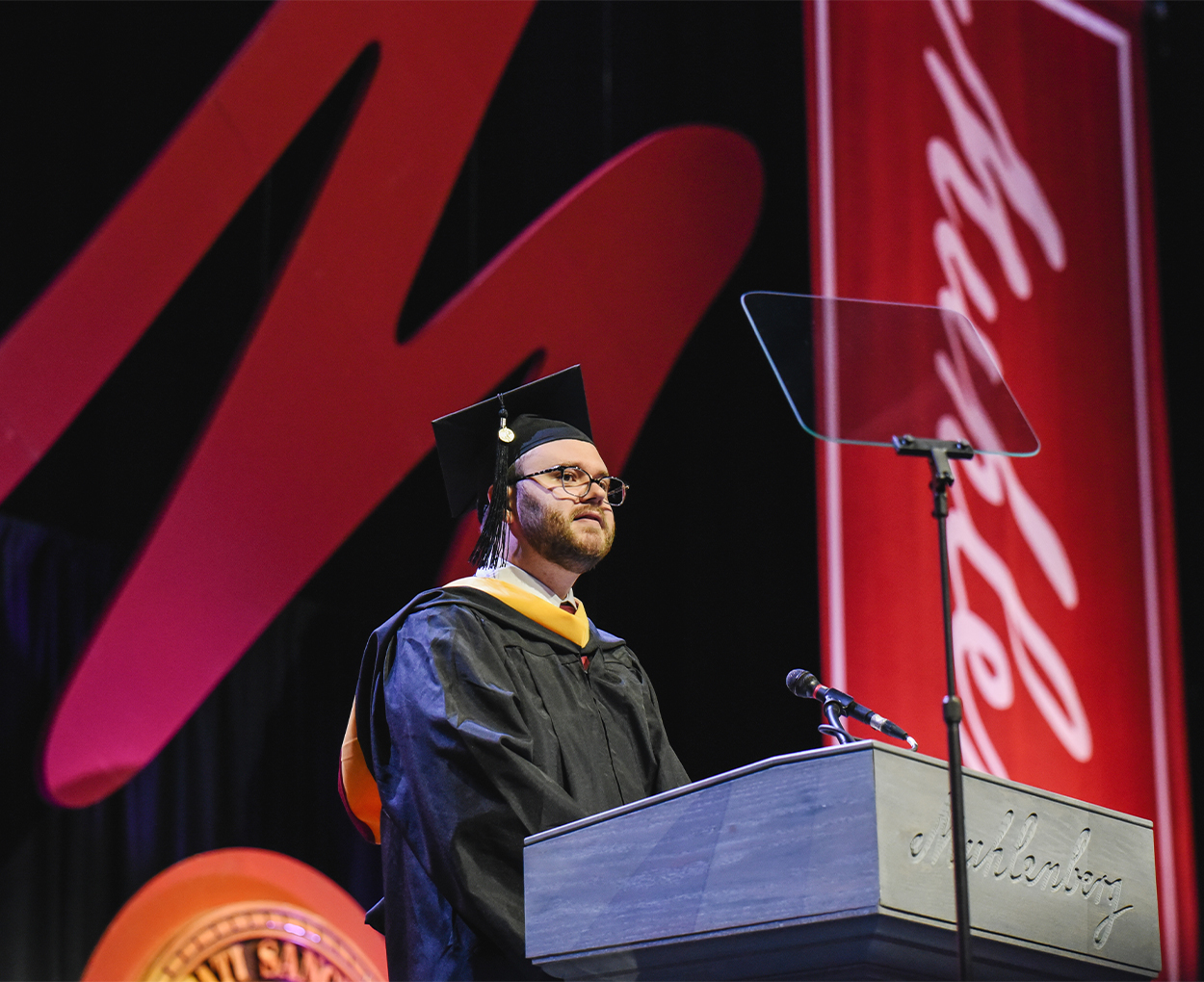 "For I, too, had fears about not knowing enough to start, being in classes with those younger than myself, the inability to find class times that worked, and financing my education. But none of those things have been further from the truth, and — for that — I say thank you Muhlenberg College, and especially the Muhlenberg College School of Continuing Studies."
In her own address, President Harring spoke of an affinity with the Class of 2023.
"In the fall of 2019, you started your college career and I began serving as interim and then permanent president of our beloved College. We have been through a lot together and I take very special pride in your achievements as individuals and as a class."
She spoke of the power of community: "Your lives will be all the more meaningful because of what we experienced here together over the past four years. They will be all the more consequential because of what we have learned together. You will have more power because we did it together."
Commencement 2023 Slideshow