Create the program you want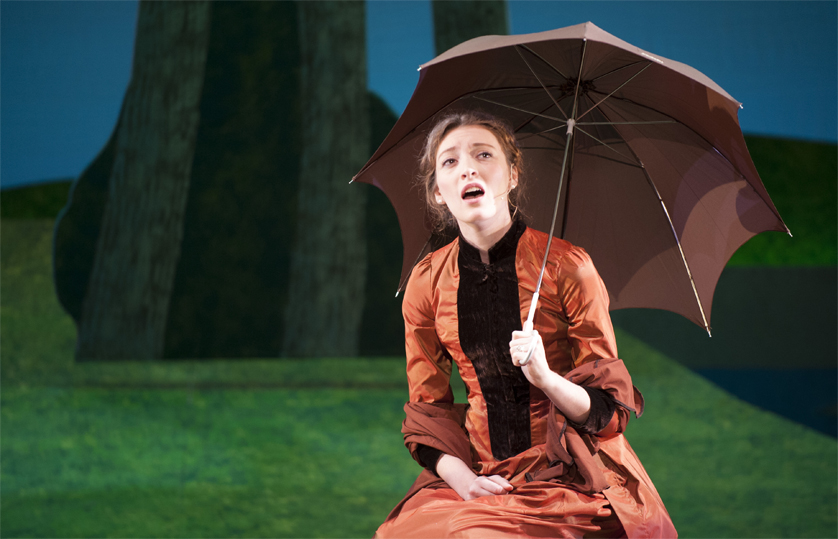 The Theatre & Dance curriculum is designed to be both rigorous and flexible, allowing you to pursue your interests in multiple performing arts disciplines or in other fields of study entirely. Many of our students take at least a minor in addition to their major, or select more than one area of study within theatre (for example, directing and acting).
One of Muhlenberg's great advantages is the personal attention of your academic advisor, who will help you carefully plan your coursework to fulfill your academic requirements. Talk to your advisor about your plans and goals, and he or she will help you figure out how to achieve them.
Here are just some of the multidisciplinary options available to you.
Musical Theatre studies
Muhlenberg provides excellent training to students with an interest in musical theatre performance. Students typically combine training in our Dance and Theatre programs with courses in Muhlenberg's excellent Music Department. Find out more.

Arts Administration
The Business Program offers an Arts Administration concentration as an option within the business major. Many students combine this concentration with studies in theatre or dance — great preparation for a career behind the scenes in the performing arts, or for running a performing-arts-related business.

Arts Education
Students interested in teaching the performing arts often take courses in theatre and dance while pursuing certification through the College's Education Program. Education courses may also benefit those interested in performing children's theatre, or in operating a theatre school for children, and many students interested in teaching the performing arts join the teaching staff of the Muhlenberg Community Dance Center youth programs.
Certification: Requirements change periodically and vary by state, although most states have reciprocity agreements. Those pursuing a Pre-K to 4 certificate at Muhlenberg may major in any subject, including theatre or dance. Those pursuing Grade 4-8 and Grade 7-12 certification need to select a subject for certification; since Pennsylvania does not offer certification in theatre or dance, students will need to select another major, such as English, in addition to their education courses. While it would be difficult to complete a theatre or dance major in addition to another major and teacher certification, students can certainly take significant coursework in theatre and dance — including a dance minor — while completing their degree in four years.
Many other students pursue completely unrelated academic interests, ranging from mathematics to pre-law. Remember that all Muhlenberg students are welcome to take courses in the Theatre & Dance Department, regardless of their major — so if you want to continue to explore the performing arts while you prepare for your medical career, we encourage you to do it!
Take a look at the College Course Catalog.
---
Want to Know More?
Thank you for your interest in Muhlenberg College. This form is for prospective students to request additional information about the Theatre & Dance Department.
Performance Patrons: to sign up for the mailing list, or to request information other than prospective student info, please the See a Show page, and click Mailing List Signup in the sidebar menu.
Loading...